International Removals to Qatar from the UK are easy with Simpsons
Get the best quote and service for your overseas removal from the UK to Qatar – we'll take care of everything from the initial home survey to delivery to Qatar.
Looking to move to Qatar? We as a removal company believe that moving to Qatar should not be difficult or stressful. Our years of experience mean that our skills are perfected and we will provide you with high-quality overseas removals services to Qatar. This includes helping to move your personal belongings to countries outside the UK.
We handle all kinds of moves. From small International removals services to full household International removals services. Our services also include furniture shipping to Qatar (as well as vehicles, box shipping, and even delicate items such as musical instruments).
We are one of the leading removal companies in the UK for customer satisfaction and we will provide you with an excellent International removals service.
We regularly help people with their international moving from all locations in the UK to all the major destinations in Qatar including Doha, Al Wakrah, Al Khawr, Umm Salal Muhammed and Dukhan.
Using Simpsons as your International removal company for moving to Qatar will ensure that your personal effects & belongings are in excellent condition at the final destination.
---
Qatar Removals: How to move from the UK To Qatar with Simpsons International Removals
---
---
The amount charged for a 20- or 40ft shipping container will depend on the volume of personal effects you want to send.
Our international removals service includes part loads services / shared container service every 2-3 weeks, with each departure taking between an estimated transit time of 8-12 weeks to arrive at port, depending upon the final destination.
The transit time for removals to Qatar depends on whether you use an air freight service or sea freight service for your move to Qatar.
You may use an air freight service to receive your household goods quicker. Or a sea freight service if you wish to receive a cheaper service for moving your belongings to Qatar.
You can use both air freight and sea freight. You can use an air freight service for items that you need to arrive quickly and use our sea freight service for items that are not as urgent for living in Qatar.
Planning to move to Qatar in the near future? It is recommended that you ship most of your belongings to Qatar as the cost of replacing your items in Qatar could be more expensive.
Overseas removals to the other side of the world such as Qatar are far more complicated than moving within the UK. But by using a specialist international removal company like Simpsons, you can be sure your personal effects and furniture are in safe hands and that you will save money when moving to Qatar.
Our international movers container shipping service will ensure that your personal effects arrive safely, and remove the stress when moving your belongings from the other side of the world from the UK to Qatar. The shipping containers are typically 20ft containers or 40ft containers for moving houses.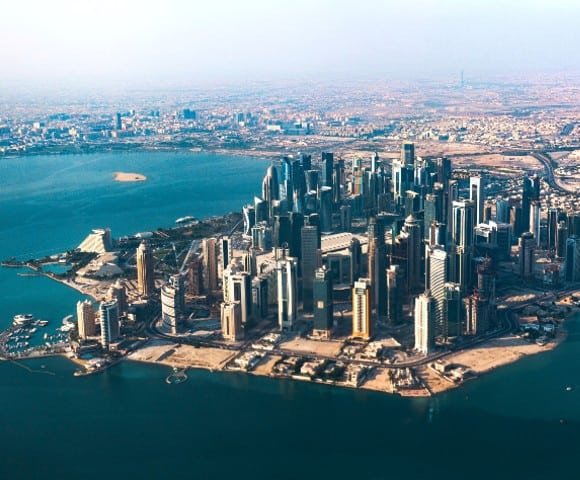 Qatar Removals FAQ Guide & Moving Checklist
Qatar Removals: Contact our International Movers Consultants for advice and to get a quote for Moving to Qatar
For further information, our International Moving specialists will be able to help with your needs when moving to Qatar from the UK. As part of our Qatar service, we will provide help with Qatar customs, documentation & questions surrounding your Qatar removal
Whether you are looking to move to Qatar for a new job, or to explore the world outside of the UK, Simpsons from start to finish will make international removals to Qatar easy for your household goods.
For a quick quote and to receive more information about our removals service click on our cost calculator or self-survey form to receive a free non-obligated estimated quick quote.
Or if you would like a free home survey click here and fill out the forms and our removals to Qatar moving specialists will be on task to help you.
Simpsons also provide many international removals services such as International Trade Services or commercial storage
Call: 01322 949 557
Simpsons are a long established and quality approved company operating to British Standards across the UK, for all European, International and Commercial removals